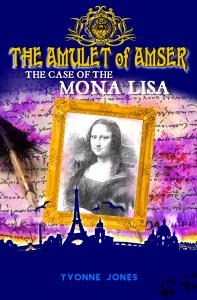 .
Ages 7-12, Boys & Girls
Wen's very first fantasy adventure in the middle-grade chapter book series – The Amulet of Amser: The Case of the Mona Lisa.
Blending history with fiction, children learn about famous pieces of art. Wen, the youngest member of the Amser family, is destined by his family's ancient oath to forever protect the world's most precious pieces of art for all of mankind. During a visit to his grandfather's house, Wen learns that he can influence what will happen tomorrow by going back in time. Will Wen be able to save the Mona Lisa, or will Leonardo da Vinci's masterpiece be lost forever?
Experience a new art adventure inside every THE AMULET OF AMSER book!
More THE AMULET OF AMSER books soon: "The Case Of The Starry Night"
Click here to LEARN MORE and watch the TRAILER.